George Joao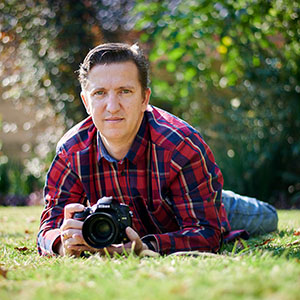 I am part owner and head photographer at By-Joao.
I have always been drawn to technology. Since the mid 80's I have found my hands magically pulled toward all things electronic. Admittedly the result was destruction as I took apart everything so I could see how it worked inside. This led to a career in IT which started in the 90's and continues to this day. Through all the tinkering and nerd life, I was also very driven in sports and art. I always spent lonely hours looking closely at the world around me. From analyzing people's behavior to looking at how something was built be it natural or man made. Through this, I found my love for nature and developed a profound respect for all life big and small.
In 2010 I bought our first DSLR camera for Melissa. It wasn't the finest example but I was blown away by how much fun it was compared to the old 35mm point and shoots I had used till then. Needless to say, I fell in love with what then, became a new hobby, taking pictures.
In early 2015 we decided to take our hobby to another level. We invested in up skilling so we could use our new found passion to generate an additional income. As time went on, we got better and met so many wonderful customers that have made this passion feel even more special and given us so much more drive to want to save those special memories. It became clear to us that this was a passion that was worth growing and in August 2019 I left my full time IT job to focus on photography. There is a lot that we still want to achieve and we cannot wait to meet more wonderful people and take photos of them on our long and windy journey to those dreams.
Melissa Joao
I'm part owner and professional photographer at By-Joao.
I have always been social and had a love for people and helping others combined with project management and office support which helped me thrive in a corporate educational field for the last 14 years however by 2015 I felt like I needed to use my experience and ideas for something else that I am very passionate about. I truly believe its never too late to pursue our dreams and passions and never give up on these. I chose to broaden my horizons and use my many years of small business experience and what I was studying to start my own photography business.
My love for photography started back in 2010 when George gifted me my first DSLR camera. A combination of my love of animals and nature seemed to further feed my passion and begin this journey. We started mostly with photographing rescue dogs and cats at shelters but this eventually grew as we started branching off and exploring different types of photography.
What I love most about being a photographer is capturing the real and raw emotion in everyday life but also the magic on those extra special days. I do believe there is a certain vulnerability in being photographed thus meeting new people and capturing their stories amongst the madness of life is a both a super power and a gift.
Some of my other loves are:
Birding, reading and raising awareness through photography for wildlife, farm animals, nature and pets for non profit organisations.
We love to travel and nature always recharges my soul. We've traveled mostly locally although I dream of exploring most of Africa and believe we live on one of the most beautiful continents.
We are proud parents of many fur and scaly kids who are treated as royalty, (I wish I was one of them.) They are our family.
Based in Sandton we have been photographing professionally for almost 5 years. We cover a wide range of natural outdoor photography (family, maternity, kids, pets, and couples) as well as Events, Wedding and Product Photography.
Our simple life philosophy is live and let live.